Viola Italian
Bratsche German
Cremona English?

This entry is still under construction. The next time you visit, check the Revision History to see what's been added.

An imitative string stop of 16', 8' or 4' pitch.

In Italy and Spain after the middle of the 18th century, the name Viola indicated a Regal stop.

There are alternate meanings for the name Cremona.

The illustration is Audsley's.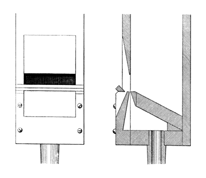 Variants
Examples
Sound Clips
See the Sound Files appendix for general information.
Bibliography
Adlung[1]: §177 Prästant, §204 Viola. Audsley[1]: Viola. Audsley[2]: I.XIII Viola; II.XXXIV Viola; II.XXXVI Viola. Bonavia-Hunt[1]: Viola. Grove[1]: Viola da Gamba. Irwin[1]: Viola. Locher[1]: Viola. Maclean[1]: Viola. Skinner[1]: XII Viola. Strony[1]: Viola. Sumner[1]: Bratche; Viola. Wedgwood[1]: Gamba; Viola. Williams[1]: Glossary: Viola da Gamba.

---