The 16' Pyramidon was composed of stopped wooden pipes of inverted pyramidal form. The tapering was extreme: Wedgwood gives the dimensions of the low CCC pipe as 2' 9" tall (two feet nine inches!), 2' 3" square at the top, and 8" square at the block or mouth line. Audsley and Sumner give the speaking length of this pipe as 2' 6"; it is not clear whether the 3" difference constitutes the height of the block, or resulted from a typographical error.
This stop was invented by the Reverend Sir Frederick A. Gore Ouseley, and was made by Flight for Ouseley's College Chapel in South Wales, where it appeared in the Pedal. Its tone was similar to that of the Bourdon, and had no special qualities.
While the Pyramidon required very little height, it consumed a considerable amount of soundboard space. Wedgwood quotes a letter written to him by one Henry Bryceson, a "celebrated organ builder of the period", as follows:
I believe the Pyramidon never passed the experimental stage in an organ built by Flight for Sir Fred. Ouseley's College Chapel in S. Wales. On enquiry he, (Flight) only smiled about the stop, so, evidently, he had no great opinion of it.
The Reverend Ouseley clearly had an opinion; in a letter to Audsley in 1887 he wrote:
As regards the Pyramidon, it is a failure. I have long since had the pipes taken out of my Organ. I found that although the pipes sounded well individually when apart, the moment they were planted in juxtaposition they silenced each other, except the pipes at each end of the row... Let the Pyramidon be forgotten.
Audsley states that "the chief interest of the stop lay in the acoustical problem it presented: its disadvantages were several." He does not elaborate, but Wedgwood says: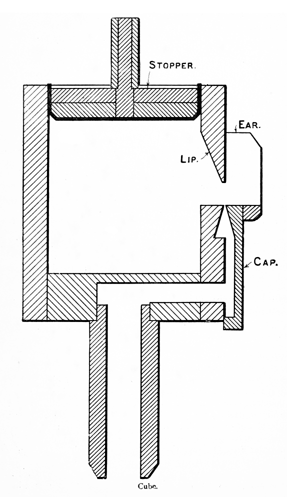 "Boxes" and "Cubes", into an orifice in which wind is directed, have from time to time been made. Their tone is apt to be irregular, and ill-defined, and generally unsatisfactory. The author, has, in his possession, however, a Cube of excellent effect, made and voiced by Mr. Compton, the tone of which somewhat resembles that of the same builder's Tibia Mollis. The lip is leathered. Cube basses might be found of great utility, when dealing with situations of some awkwardness.
Wedgwood provides the illustration reproduced here (of a "Cube", not a Pyramidon). Click on it for a larger image.

See also Cubus.
Examples
None known. Contributions welcome.
Bibliography
Audsley[1]: Pyramidon. Audsley[2]: I.XIII Pyramidon. Hopkins & Rimbault[1]: § 569. Sumner[1]: Pyramidon. Wedgwood[1]: Pyramidon.

---