Cor Anglais French
Corno Inglese Italian

Englisch Horn German
English Horn English

Kopftrompete German

Angle Horn English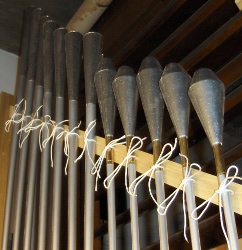 The orchestral English Horn is neither English nor a horn; it is essentially a tenor oboe which dates back at least as far as the 18th century. The name "English Horn" is a translation of the French cor anglais which is probably a corruption of cor anglé, meaning "angled horn", referring to an early form of the instrument which was bent in the middle at an angle.

The earliest known reference to an organ stop of this name is cited by Grove, who states that in Italy around 1820 it had a coarse tone and wide cylindrical resonators; see Corno Inglese. In the mid-19th century it took on a form resembling the orchestral instrument, with a double bell at the end, as shown in Audsley's drawings reproduced here. French builders favored the use of free reeds for this stop, a practice also used by German builders. In England and America it was usually made as a beating reed. In the 1920's the English Horn was re-invented by Skinner, who gave it a smoother tone and called it "the aristocrat of the reed family". His resonators featured a telescoping section of straight tubing below the bell for tuning, since he felt that slotting or shading the bell would destroy its acoustical integrity.

This tone of this stop is intended to imitate the instrument. Its tone has been described as rich, round, plaintive, and somber. It most often found at 8' pitch, but 16' examples are not uncommon. It is rarely found in theatre organs (according to Strony), where the name English Horn almost always indicates an English Post Horn.

The two photographs show different parts of the same 8' English Horn stop, which is part of the organ at Culver Academies, Indiana, USA. They appear here courtesy of John Gouwens. Click on them to view larger images.

See Labial Cor Anglais.
Variants
Double English Horn
Examples
Osiris contains about 90 examples of English Horn, of which eight are in Wurlitzer theatre organs, about 115 examples of Cor Anglais, thirteen examples of Englisch Horn, eighteen examples of Kopftrompete (most of them by Klais), and seven examples of Corno Inglese. About 60% of them are at 8' pitch, 30% at 16' pitch, and 10% at 4' (including nearly all of the Kopftrompetes). No examples of Angle Horn are known, a name mentioned only by Skinner.
Basson & Cor anglais 8', Grand Orgue; St. Denis, Paris, France; Cavaillé-Coll 1841.
English Horn 8', Orchestral; Kotzschmar Memorial Organ, Portland City Hall, Portland, Maine, USA; Austin 1912.
Sound Clips
See the Sound Files appendix for general information.
Bibliography
Audsley[1]: Cor Anglais; Corno Inglese; English Horn. Audsley[2]: I.XIII Cor Anglais; Corno Inglese; English Horn; II.XXXVIII Cor Anglais. Bonavia-Hunt[1]: Cor Anglais. Grove[1]: Cor Anglais; Corno; English Horn. Irwin[1]: English Horn. Locher[1]: English Horn. Maclean[1]: Cor Anglais, English Horn. Skinner[1]: 59; XII Angle Horn, English Horn. Strony[1]: Cor Anglais; English Horn. Sumner[1]: Cor Anglais; Kopf Trompete. Wedgwood[1]: Cor Anglais. Williams[1]: Glossary: Corno.

---