Contrabass German
Contrabasso Italian
Contre-basse French

Double Bass English
Double String English
Kontra Bass (unknown)

Bass Violin English
Basse contre French?

Contra-Violin (unknown)
Violin Bass English

This entry is still under construction. The next time you visit, check the Revision History to see what's been added.
An imitative string stop of 16' pitch.
Some sources consider these names to be synonyms for Violone. According to Adlung, Contrabass is sometimes a synonym for Subbass.
The name Double String has other uses.
The drawing is Audsley's; click on it for a larger image.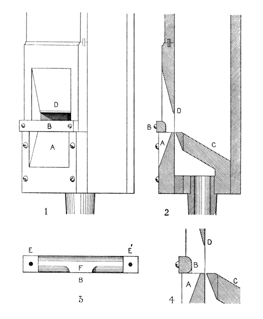 Examples
Contrebasse: 72 @ 16', 5 @ 32'. Contrabass: 36 @ 16', 9 @ 32'. Contrabasso: 10 @ 16'. Kontrabass: 15 @ 16', 3 @ 32', all from 20th century. No examples of Bass Violin, Contra Violin or Violin Bass are known.
Contrabass 32', Hauptpedal; Basilica, Weingarten, Wuerttemberg, Germany; Gabler 1737-1750.
Contrabass 32', Pedal; Dreifaltigkeitskirche, Liepaja/Libau (Lettland), Latvia; Grüneberg 1885.
Contrebasse 16', Pedal; Notre Dame, Dole, France; Riepp 1750-54.
Contrebasse 16', Pedale; St. Sulpice, Paris, France; Barker/Callinet/Somer, first half of 1800's.
Contrabasso 16', Pedal; San Carlo, Brescia, Italy; probably 18th century.
Contra Basso 16', Solo; Royal Albert Hall, London, England; Willis 1872. Later renamed to Contra Bass.
Contrabasso 16', manual; Nostra Signora della Consolazione, Genova, Italy; Locatelli 1879.
Double String 16' (TC), Great; John Ledwon residence, Agoura, California, USA; Wurlitzer.
Double Bass 16', Choir, String Organ II; Convention Hall, Atlantic City, New Jersey, USA; Midmer-Losh.
Bassecontre 24', Pedale; St. Denis, Paris, France; Cavaillé-Coll 1841. This is the only known example of this name.
Sound Clips
See the Sound Files appendix for general information.
Bibliography
Adlung[1]: §121 Basse contre, §126 Contrabass, §161 Infrabass. Audsley[1]: Contrabass. Audsley[2]: I.XIII Contra-Basso; II.XXXIV Double Bass; II.XXXVI Contra-Basso; Bonavia-Hunt[1]: Violone. Grove[1]: Contra. Irwin[1]: Contrabass. Locher[1]: Double Bass. Maclean[1]: Contra Bass. Skinner[1]: XII Contra Bass. Sumner[1]: Contrabass. Wedgwood[1]: Contra Bass. Williams[1]: Glossary: Tenori.

---