Aeoline English

Aeolina Latin

Aeolian (unknown)
Äoline German
Eolina Italian

Êoline French
Echo Salicional English
Echo Viola da Gamba Italian?

The Aeoline is a string stop of very soft tone; the softest string tone in the organ, according to Audsley (but see Echo Aeoline). It is usually found at 8' pitch, but 4' and 16' examples are sometimes found. As a flue stop it first appeared around 1820 in Germany, and soon became popular in Germany, Switzerland and America in both large and small instruments. The names Aeolina, Aeoline and Äoline have also been used for a reed stop; see Aeoline Reed. Irwin gives a different definition for Aeolina
Different sources variously describe the Aeoline as belonging to the Gamba, Salicional, or Viol family. The degree of "stringiness" varies between different examples, being more stringy in German examples, according to Maclean. Audsley considers it an Echo Salicional or, if voiced with a more stringy tone, an Echo Viola da Gamba. Bonavia-Hunt and Wedgwood mention Echo Salicional without reference to the Aeoline, but without any description whatsoever. In the absence of further information, we consider them to be synonyms. According to Maclean, Casavant sometimes used the name Dolcissimo for their Aeolines.
The Aeoline is often used as one rank of a celeste. Audsley and Locher claim that it is often used with the Voix Celeste, though that stop is usually intended for use with the louder Salicional.
Compare with Voix Éolienne and Salamine; see also Echo Céleste and Echo Viol.
Construction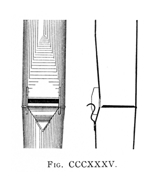 The Aeoline is constructed of small scale cylindrical metal pipes, sometimes slotted. Audsley prefers tin or Hoyt metal. The widths of the mouths are from 1/5 to 2/9 the circumference, with very low and sharp cut-ups. Each mouth is fitted with a roller-bridge or a small adjustable curved beard, as shown in Audsley's drawing which is reproduced here, which Audsley says "greatly aids the production of the delicate string-tone which is the desirable characteristic of the stop." He specifies a wind pressure of 1.5" to 2.5". The lowest octave is sometimes made of wood, and sometimes stopped, and in cases of limited space or funds, may be borrowed from another stop. These latter practices cannot be recommended, as it is impossible to obtain string tone from a stopped pipe (unless it is Haskelled). There is considerable variation in scales given in the literature:
Source
8' C
4' C
2' C
1' C
Ratio
Wedgwood
3.5"
Audsley
2.51"
1.54"
0.94"
1:2.519
Bonavia-Hunt
2 1/2"
1 1/2"
Bonavia-Hunt
2"
1 1/4"
3/4"
15/32"
halve on 20
Bonavia-Hunt
1 1/2"
1"
5/8"
7/16"
halve on 24
Bonavia-Hunt
1 1/8"
13/16"
9/16"
11/32"
halve on 24
Variants
Aeoline Céleste
Echo Aeoline
Examples
Osiris contains about 100 examples of Aeoline, and eight of Aeolina. All known examples of the other names (as flue stops) are given below. No examples of Echo Viola da Gamba are known. Contributions welcome.
Aeoline 8', Manual II; Basilika Maria-Treu, Vienna, Austria; Buckow 1858. This is the oldest known example of this name used as a flue.
Aeoline 8', Swell; BPOE (Elks) Lodge, Adams, Massachusetts, USA; Steere & Turner 1872.
Aeolian 8', Solo and Echo; Bute Hall, University of Glasgow, Glasgow, Scotland; Lewis 1905. This is the only known example of this name.
Aeolina 16', Choir; South Congregational Church, Boston, Massachusetts, USA; Hook 1864.
Aeolina & Bourdon 16', Choir; Mechanics Hall, Worcester, Massachusetts, USA; Hook 1864 (restored 1982).
Aeolina 8', Swell; First (Old South) Presbyterian Church, Newburyport, Massachusetts, USA; Hook 1866.
Aoline 8', Swell; Holy Cross Cathedral, Boston, Massachusetts, USA; Hook 1875.
Aoline 8', Swell; Federated Church, Sycamore, Illinois, USA; Wicks c1970.
Eolina 16', Choir; First Congregational Church, Woburn, Massachusetts, USA; Hook 1860. This is the oldest known example of this name.
Eolina 8', Organo Terzo; St. Luke's Chapel, Greenwich Village, New York City, New York, USA; Moller 1930.
Eolina 8', Manual I; Morelia Cathedral, Michoacan, Mexico; Walcker 1905. This stop was apparently named Aeoline by Walcker, and renamed by Tamburini in a 1960 rebuild.
Eoline 4', Solo; Basilica del Santisimo Sacramento, Buenos Aires, Argentina; Mutin-Cavaillé-Coll 1912.
Eoline 8', Recit; St. Joseph, Bonn, Germany; Oberlinger 1981.
Eoline 8', Antiphonal; St. Andrews Presbyterian Church, Newport Beach, California, USA; Casavant 1985.
Echo Salicional 8', Swell; Winchester College, Winchester, England; Norman & Beard 1908.
Echo Salicional 8', Swell; Washington Irving High School, New York City, New York, USA; Moller 1919.
Echo Salicional 8', Swell; Marchmont House, Greenlaw Borders, Scotland; Hill, Norman & Beard 1919.
Echo Salicional 8', Swell; King's College, Cambridge, England; Harrison & Harrison 1934.
Echo Salicional 8', Antiphonal; Gaston Avenue Baptist Church, Dallas, Texas, USA; Wicks 1950.
Bibliography
Audsley[1]: Aeoline. Audsley[2]: I.XIII Aeoline; II.XXXVI Aeoline. Bonavia-Hunt[1]: Aeoline; Echo; Viola. Grove[1]: Aeolina. Irwin[1]: Aeoline. Locher[1]: Aeolina. Maclean[1]: Aeoline. Skinner[1]: XII Aeoline. Sumner[1]: Aeoline. Wedgwood[1]: Aeoline; Echo. Williams[1]: Glossary: Aeolina.

---