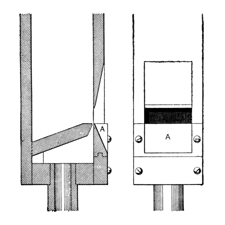 Holzprinzipal German
Hölzernprincipal German
Wood Diapason English


An Open Diapason made of wood (holz). Maclean claims that the name Holzprincipal is sometimes used in Germany for metal principals of fluty tone. Such blatant misuse of terminology should be condemned. The name Hölzernprincipal is listed only by Adlung, who does not define it; we assume it to be a synonym. The illustration is Audsley's.

Compare with Open Wood.
Examples
Countless examples Open Diapasons made entirely or partly of wood are known, but we know of no examples of the name Wood Diapason. Contributions welcome. Osiris contains 29 examples of Holzprinzipal and 22 examples of Holzprincipal. Two-thirds of them are at 8' pitch; one-fifth at 16', and half a dozen at 4' pitch. The earliest examples are given below. No examples of Hölzernprincipal are known.
Holz-Prinzipal 8', Schwellwerk; Grosser Saal der Gesellschaft der Musikfreunde, Vienna, Austria; Walcker 1968.
Holzprincipal 8', Kronwerk; St. Marien, Rostock, Germany; Sauer 1938.
Holzprincipal 8', Positiv; St. Michael, Saarbrücken, Germany; Spaeth 1925.
Holzprincipal 16', Pedal; St. Matthew's Lutheran Church, Hanover, Pennsylvania, USA; Austin 1925.
Bibliography
Audsley[1]: Diapason, Wood. Irwin[1]: Wood Diapason. Maclean[1]: Holzprincipal. Sumner[1]: Hohlflöte.

---