Harp English
Harfe (unknown)
Harfa (unknown)

The name Harp has been given to three different stops.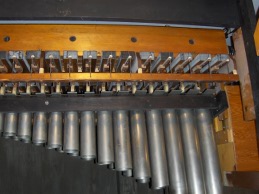 Percussion
By far the most common type of Harp stop, this one consists of tuned metal or wooden bars, suspended over tuned resonators, and struck by padded electric or pneumatic hammers. Like other tuned percussion stops, it is often of short compass. Skinner considers Celesta and Glockenspiel to be the same stop pitched an octave higher. According to Maclean, on theatre organs the Harp sounds a single stroke each time a key is pressed, and Marimba is the same stop with a reiterating action.
The photo (courtesy of John Gouwens) shows a Deagan/Moller Harp; click on it for a larger image. A sound clip of this stop can be found below.
Regal
This type of Harp stop was a Regal "toy" stop from the 16th century, probably a bagpipe-like drone. It was also found as a complete stop of 16' or 8' pitch in central Germany around 1620, and in Spain around 1750. See Harfenregal.
Stringed
In 1733 Thomas Schwarbrook placed three string stops in the his organ for the Church of St. Michael, Coventry, England. These stops, Harp, Lute and Dulcimer, used actual strings. Sumner conjectures that they were actuated by a harpsichord mechanism. The difficulty of keeping them in tune led to their removal in 1763. Audsley reports that "some attempts have been made to furnish the modern Organ with a string Harp, sounded by plectra".
Examples
The only known example of the stringed form is the one cited above. All known examples of the Regal form are given below. No examples are known of the name Harfa. Contributions welcome.
Percussion
Harp; John K. Evans residence, Northport, Maine, USA; Aeolian 1914.
Harp, Orchestral division; Portland City Hall, Portland, Maine, USA; Austin 1912.
Harp, Choir; Spreckles Organ Pavilion, Balboa Park, San Diego, California, USA; Austin 1915.
Harfe (metal bars f#1-c4), Hauptwerk; Peterskirche, Sinzig-am-Rhein, Rheinland-Pfalz, Germany; Walcker 1972.
Harfe, manual I; the Welte-Philharmonie-Orgel, Klaus Fischer Collection, Museum für mechanische Musikinstrumente, Kurfürstlichen Burg (Electoral castle), Linz am Rhein, Germany; Welte 1925.
Regal
Harfe, manual; St. Bavo, Ghent, Belgium; de Smet 1592-95.
Harpa 16', 2nd manual; Cathedral, Salzburg, Austria; Egedacher 1703-06.
Sound Clips
See the Sound Files appendix for general information.
Bibliography
Audsley[1]: Harp. Grove[1]: Harfe. Irwin[1]: Percussions. Maclean[1]: Percussions. Skinner[1]: 75, 76; XII Harp. Sumner[1]: Harp. Wedgwood[1]: Harp. Williams[1]: Glossary: Harp.

---